Our Solution
The Vzense 3D ToF DS Camera identifies and captures the position, color, size, shape and other physical attributes of items on the high-speed conveyor belt, and cooperates with the parallel robot to complete the grasping, sorting, packing and stacking of goods.
The external camera installed on the robot triggers a signal when it detects the appearance of the target object. The signal will be received and read through the software development platform. The camera will capture the image of the target object in its field of view, complete a series of identification and positioning operations through image processing algorithms, and pass the processed data to the robot. Finally, the robot will complete the sorting and grasping of the items on the conveyor belt following specific algorithms.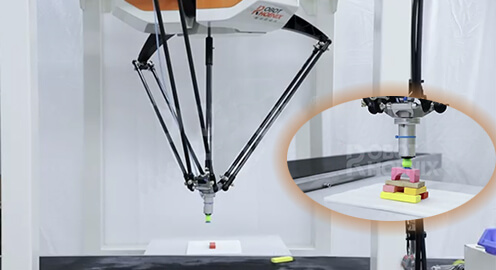 Our Customer:
Robot Phoenix is devoted to the R&D of lightweight and high-speed industrial robots. It provides a range of products including parallel robots, SCARA robots, small six-axis robots, coordinate robots, AGV robots, wafer handling robots, robot controllers and visual modules. Robot Phoenix has a high market share of parallel robots in China as a major player in the industry. Our DS77C Camera is used a standard configuration on Robot Phoenix's parallel robot (spider-claw robot) Bat1100-S3 for dynamic grasping and sorting, providing vision guidance for SCARA robot to complete the grasping and sorting of materials and products on the production line.
In addition, our 3D ToF Cameras are mass produced and used in such fields as pallet positioning, posture identification and obstacle avoidance by AGV forklift, separation of parcels, depalletizing and palletizing, dynamic grasping and sorting, and crop harvesting in intelligent agriculture.